Jan
28
2022
Build Your Time-management Tool Kit
January 28, 2022
2:00 PM - 4:00 PM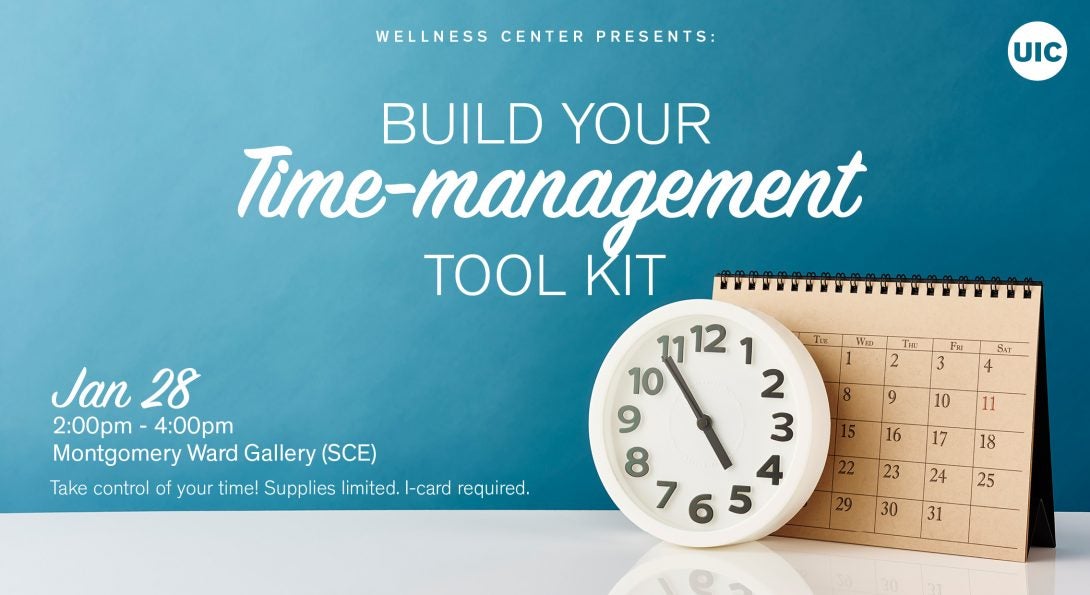 Location
SCE Room 213 (Montgomery Ward Gallery)
Do you find yourself procrastinating on all your task and homework? Do you feel as if there's not enough time in the day to get anything done? If so, you're not alone! Stop by the Montgomery Ward Gallery in SCE from 2-4pm to build your time-management tool kit. Learn how to control your time and get things done by prioritizing tasks and organizing your time while scheduling time for self-care. Pick between 3 different time-management tools: a weekly to-do list post-it board, a semester planner with written deadlines (bring your planner), or a special time-management tool. In this event, you get to decorate your planner or build your to-do list planner board. Bring your syllabi to include all your semester deadlines. Once you have your time-management tool kit, you'll be ready to take on the semester with confidence! Post-it notes, stickers, construction paper, colored pens will be provided. Supplies are limited. I-card required. Brought to you by Wellness Center.
**Due to the first 2 weeks. of online instruction, we have rescheduled this event to take place on Friday, January 28th 2-4pm**
UIC Covid-19 guidelines: 
Beginning Wednesday, Jan. 5, regardless of vaccination status:
All students, faculty and staff in residential housing and performing arts are required to test once per 7-day period.
All students, faculty and staff are strongly encouraged to participate in UIC's surveillance testing. Specific units and departments will be contacted via email throughout the semester on a rotating basis to participate in on-campus saliva testing. This surveillance testing initiative will help to inform current and future health and safety measures on campus.
All students, faculty and staff are encouraged to utilize on-campus saliva testing at any time.
Attendance at in-person events on campus will require proof of a negative COVID-19 test within 72 hours of the gathering. If you test on campus, COVID-19 testing results are available in your MyChart account.
Date updated
Jan 13, 2022