Lifestyle Tip: Tripledemic? Here's Your Defense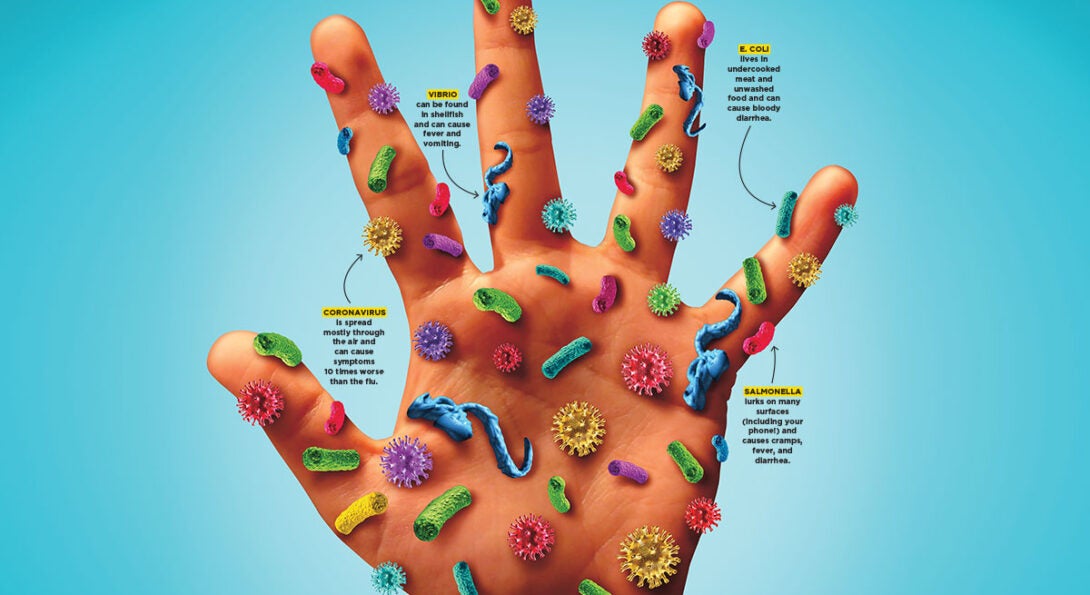 Dear Flames Family,
Welcome to all the delights of fall! Great weather, colorful leaves, football, and oh yeah, the flu!  According to the Center for Disease Control and Prevention, flu season starts in October and can last into May.  Typically, peaking in December, January, or February, depending on other variables.
While it's important to take preventative actions regarding the flu we should also consider expanding these same critical actions to mitigate the risk of other airborne illnesses.  For example, COVID-19.  Although the number of COVID-19 cases have significantly decreased its presence is still evident in Chicago and its health effects still range from mild to severe even for those who are vaccinated. We want to recognize today's new norm, in that the flu season is beyond the flu and expand our preventative goals to include protections against the onset of Upper and Lower Respiratory Infections that can affect our sinuses, throat, lungs, or airways. Receiving a flu shot or receiving a COVID-19 vaccination or booster, is still the best line of defense, and is highly recommended by many medical professionals, however, we need to add a few more tools to our prevention toolkit.
Looking at the knowledge gained over the last two years on the spread of germs through a simple conversation, today's public is probably one of the best informed in history. Spreading infection through airborne particles, having physically close, extended conversation, touching our face, nose, or mouth after touching an infected surface, or shaking a hand that just wiped away the mucus of a sneeze, are actions that are known by many, to introduce infection into the human system. Thanks to a tsunami of information, we are collectively smarter and better informed on routes, risks, and protective actions needed to manage airborne infections.
Let's keep these lessons and proven safe practices alive and active. Below are tips to refresh our knowledge and provide additional strategies to mitigate risk. As you move through campus, the city, public transportation, and most importantly engage in holiday celebrations, keep these suggestions in mind.
Using a Public Computer? Wipe it down: The keyboard or mouse in a public computer lab looks harmless but hundreds of hands, coughs, and sneezes have left happy germs lounging on these surfaces. For example, the influenza from a sneeze can live on hard surfaces for up to 24 hours. So how many germs? The count varies, but let's just say research shows that tens of thousands of germs are found on public and private keyboards and mouses.  Save yourself from a contact infection by using an approved sanitizing wipe to clean these surfaces before use.  For germ "Hot Spots" check out the pic in this email.
Be kind to your community and sneeze or cough into your elbow: Studies have shown that a sneeze can travel up to 20 feet in just seconds.  And depending on the size of the droplets, they have a hang time of anywhere from seconds up to 10 to 20 minutes. See the video below.
Do the Bump: Do you remember the 70's? Yes? No. Okay. So, there was a dance called the "Bump."  It was a gentle hip-to-hip bump to a musical beat.  Let's bring back the "Bump" as a No-contact solution!  This is a way to greet someone you know well or would ordinarily hug. Continue to use the elbow bump as your No-contact tool in all other social greetings.
Choose the Best Mask. Researchers advise that improving the protective performance of cloth masks starts with choosing a mask that has multiple layers, is tightly woven and is water resistant. It should also be well-designed, fit properly, and be washed every day (or a clean one put on at the start of the day). Wearing a mask when sitting in classrooms, labs, on public transportation, or on long flights is still your best protection from cold, flu, COVID, etc.
Take a Shot. Whether it's the newest flu shot or the new COVID bivariant do all that you can to protect yourself and those around you.
Effectiveness of Cloth Masks for Protection Against Severe Acute Respiratory Syndrome Coronavirus 2
https://www.ncbi.nlm.nih.gov/pmc/articles/PMC7510705/
UIC Contact Tracing and the "Tripledemic"
https://emails.uofi.uic.edu/newsletter/1690356906.html
Modified on November 22, 2022