Making Friends and Building Connections With Campus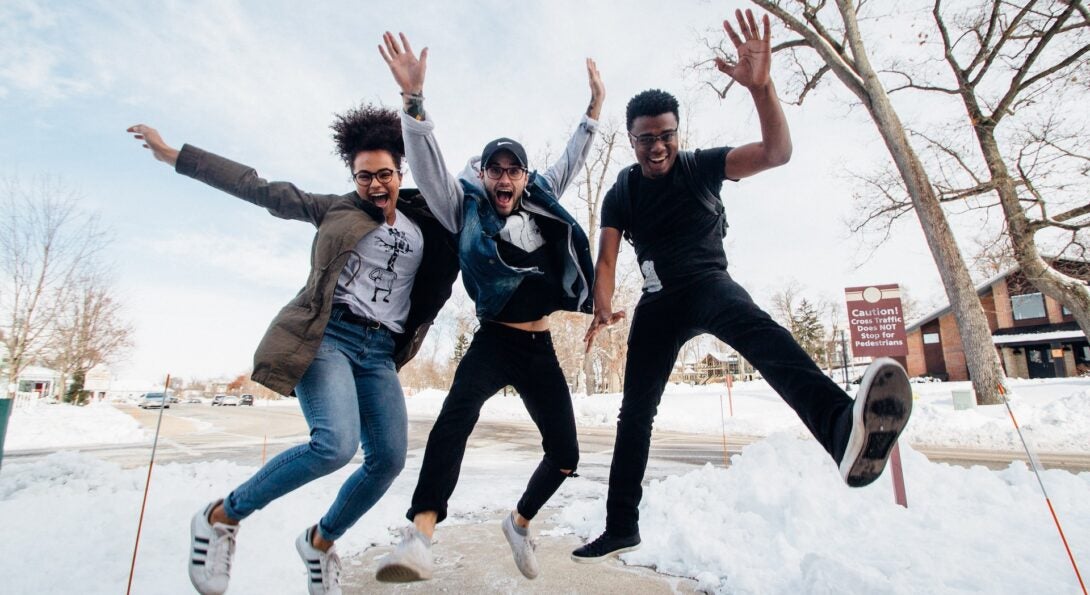 Hello Flame,
It's week two you've met your professors, TAs, and classmates and survived the awkward icebreakers. Way to go! Now that you've read your syllabus and are semi-familiar with the campus, it's time to consider building your connections with people and the campus. Studies have shown that students who engage with their campus communities are more likely to complete their degrees. Similarly, students who participate in student organizations, community service or service-learning, and/or student employment are likely to experience positive outcomes in their academic performance, well-being, and cultural awareness. To help you succeed, the Wellness Center wants to share tips on making friends and events to help you engage with the campus. Please read below.
How to make friends?
Join a group. There are over 300 UIC Student organizations on campus to help meet your personal, professional, and career goals. Whether it's a boxing club, pre-health club, nutrition club, volunteering, or more there are many organizations to choose from. To learn more about student groups, visit the Center for Student Involvement's current list of organizations. Tip. Although many clubs may pique your interest, don't over join too many clubs. Join clubs that interest you and fit with your schedule. If possible, aim to have a balanced schedule between school and extracurriculars.
Form a group. If there's not a group for you and your interests, make a group! Gather a group of people interested in the things you are and determine a time to meet, how long you meet, and what activities you'll participate in. If you want to make it an official UIC student Org and receive perks like funding and space requests, reach out to the Center for Student Involvement. 
Attend events exclusive to UIC. Attending UIC events is one quick, fun, and sometimes free way to engage with the campus and make new friends. Please know events hosted on campus during the daytime are better for safety if going alone. However, if traveling with friends, please be mindful of your surroundings and don't forget to use the UIC Safe app.
Attend a fitness class. Not only will you be breaking a sweat but you will engage with the Campus Recreation community and learn a new form of fitness. View free fitness classes here: https://recreation.uic.edu/fitness-wellness/fitness-classes/
Ask that classmate for their contact. Whether you are a new or continuing student, everyone needs a support system to help you. Some of you may already have that support group from friends at home and or family. However, that doesn't mean you can't expand! For that reason, we encourage you to make that bold step and ask a peer for their contact (email, phone number, or social media handle). Having friends in class is good to have someone share notes with you in case you miss class. When you make friends in class, you have someone to help answer lecture or homework-related questions or vent about class work. Who knows, they may become your lifelong friend.
Make friends with friends-of-friends. If you're trying to expand your social circle, friends of friends are a good and easy way to start.
Upcoming Events:
REC Fest/ September 1st, 4-7pm @ Outdoor Field Complex
Join Campus Recreation for our annual welcome event. Enjoy the outdoors, play some games, socialize with friends, and make new ones, eat some food, and have fun! Stop by on Thursday, September 1, 2022, 4:00 – 7:00 PM, at the Outdoor Field Complex located at 900 W. 14th Place. Free for UIC students, faculty, and staff! For details, visit go.uic.edu/recfest.
DIY You Belong Puzzle Piece/September 2nd, 2-4 pm @ Montgomery Ward Gallery
This event celebrates new and returning students with the chance to design their own "You Belong" puzzle! When you walk in, you'll receive a 12-inch round blank white puzzle that represents the circle of UIC. You'll add the words "You Belong" or some other inspirational message to your puzzle. And then marker it, stencil it, or color pencil it. You decide! Once finished, you can hang it up and have it inspire you all semester.
Attending College: What to Expect Zoom Session/September 9th, 2-3pm 
This session takes away the myths and reveals what it's really like to attend a large urban university. Participants will learn about common student challenges, learn ways to manage those challenges, and will be better prepared to navigate their college journey.
CCUSC In Person Open Houses – Fall 2022
Check out what the Centers for Cultural Understanding and Social Change (CCUSC) are doing through their In-Person Open Houses! Meet their staff and learn about their histories, student resources, and upcoming public programs. Visit diversity.uic.edu/events to learn more. All UIC events require that attendees wear a mask. All audiences are welcome to join. For more info or to arrange for accommodations, please contact the Centers with as much advance notice as possible.
Aug 31, Latino Cultural Center

12pm-1:30pm, In person, Lecture Center B2, 312-996-3095

Sep 7, African American Cultural Center

11am-2pm, In person, 312-996-9549, 207 Addams Hall

Sep 13, Arab American Cultural Center

12:30-2pm, In person, 312-413-3253, 101 Taft Hall

Sep 14, Gender and Sexuality Center

12-1:30pm, In Person, 312-413-8619, 1180 Behavioral Sciences Building

Sep 15, Disability Cultural Center

12-1:30pm, In person with virtual element, 312-355-7050, 235 Behavioral Sciences Building

Sep 21, Women's Leadership and Resource Center

12-2pm, In person, 312-413-1025, 1700 Student Services Building
Modified on March 22, 2023