Apr
29
2021
Stud-Tea Hall With Wellness Series
April 29 - May 2, 2021
8:00 PM - 10:00 PM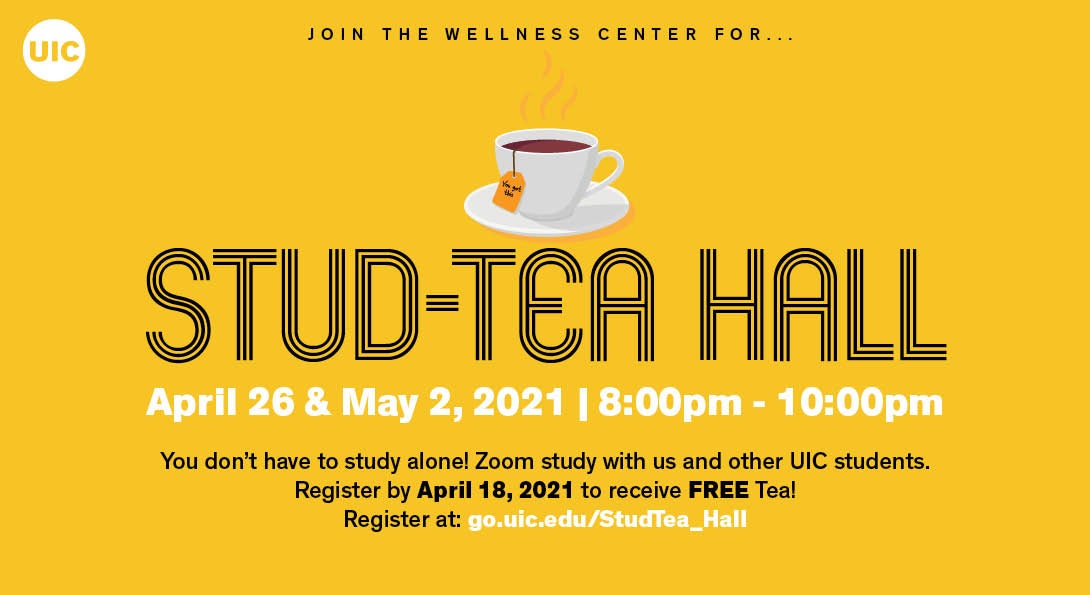 Location
Zoom (Register in RSVP link)
Address
Chicago, IL 60612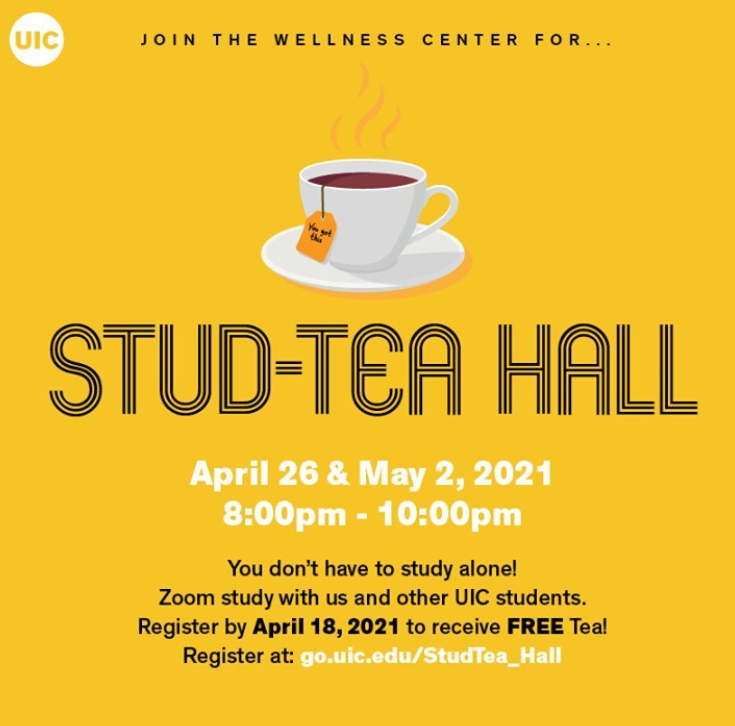 In the spirit of finals, the Wellness Center wants to invite you to our Stud-Tea Hall with Wellness sessions. Look below.
Stud-Tea Hall with Wellness Sessions:
Description: Join the Wellness Center for Stud-Tea Hall. You don't have to study alone! Zoom study with us and other UIC students. Let's kick Final's butt! Please register by Sunday, April 18th, 2021, to receive FREE Tea! (2 tea bags of green tea + 2 tea bags of lavender tea)
Getting items through mail explained: (*In Country only)
Sunday, April 18th, is the last day to register to receive free items listed above (tea bags) via USPS standard mail. If you register AFTER April 18th, you can pick up your pack at Wellness Center SCE suite 238. If you live close to campus, you can also feel free to pick up the items at our office M-F 10-4pm Monday, April 19- Friday, April 30th. Please know each envelope will receive a benefits handout + inspiration card.
* Disclaimer: We will mail items in an envelope by the post office (USPS standard mail). We are not responsible for late mail delays. We will ship items to the address placed below, so ensure the address is correct and complete. Mail delivery in U.S. only.
**All events are for registered UIC Students.
Zoom links will be sent closer to the date of the event!
If you have any questions and or concerns, please direct them to wellnesscenter@uic.edu
RSVP
Date updated
Apr 20, 2021