UIC Pop-Up Pantry - Feeding the Flames since 2014
The mission of the Pop-Up Pantry is to combat food insecurity among students at the University of Illinois at Chicago (UIC). UIC students come from a plethora of backgrounds and our aim is to assist those who may be facing personal and/or financial hardship.  It is especially important that during these college years all students are healthy and able to focus by always having enough to eat. Research shows that proper nutrition is critical for cognitive function and memory. Food is a basic human right.
Pop-Up Food Pantry with Partnership with GCFD
Information
2021-2022 Pantry Hours
**COVID-19 Update: The Wellness Center has been there for you all throughout this COVID-19 crisis, and we will continue to be there for you! Thanks to our AMAZING and HARDWORKING student and full-time staff, our Pantry will remain open to help feed our UIC Flames family!
Hours: Every Wednesday and Thursday from 1-4 pm. (During the summer and holiday breaks hours are subject to change)
**Summer 2021 Important Infromation: 
Temporary Summer 2021 Location (Starting May 26th): Student Center East Tower Room 713
Hours: Every Wednesday 10-4pm
You will need: icard, multiple reusable bags, and facial mask (required)
When you are shopping the Pantry, please practice social distancing by standing 6ft away from shoppers and Wellness staff. 
**Under the latest extension of Illinois' stay-at-home order, residents will be required to wear masks in stores and other places where social distancing is not possible. Thus, as we continue to run our Pantry, please wear a mask at all times when shopping the Pantry to help keep you and our staff safe.
If you do not have a mask, please 
click here
 to look at how to make a mask out of an old t-shirt and rubberbands in under a minute.
Stay strong, our UIC family!!
Information:
The Pantry is permanently housed in the Wellness Center.
You must be a registered UIC student to access the Pantry. Please bring your I-card to the Pantry as you must swipe in to shop.
Dear UIC Student,
Welcome to the community of UIC Pop-Up Pantry users.  This resource, exclusively for UIC students, is to help you manage life emergencies, financial challenges, and unexpected life circumstances. The Wellness Center runs the Pantry in order to help you, the student, move beyond the life challenge of food insecurity, have access to free and nutritious food, with the ultimate goal of helping you achieve academic success.
This service of free food exists only due to voluntary donations given to the Pantry from people who care.  Without them, the Wellness Center would have no food to distribute to you through the Pantry.  This means that our supply of food is limited, that we offer only what we have been given, and that we work hard to make sure that this limited supply of food feeds as many students as possible.
Please help us to feed/serve you and other students by reading ALL of the information listed below.  
Nine Important Facts to Know about the UIC Pop-Up Pantry:
Started by the Wellness Center to serve students in 2014.
100% of the food comes from donations by other students, staff, faculty, and the Greater Chicago Food Depository (Feel free to donate anytime).
As a member of the Greater Chicago Food Depository (GCFD), the UIC Pop-Up Pantry is mandated to adhere to GCFD rules and regulations. To not follow these rules, the Pantry could lose its membership with GCFD, an organization that donates thousands of pounds of food each year to the Pantry.
The Pantry exists to serve students who are homeless, couch surfing, or missing meals due to severe financial difficulties.
GCFD Regulation: Each pantry user is allowed to shop up to twice for the whole month. The GCFD system will alert staff if additional attempts are made.
All pantry users are automatically subscribed to the Wellness Listserv.
Please remember to bring your own reusable bags and I-card each time you shop the Pantry.
The Pop-Up Pantry is a community of UIC students and Wellness Center staff who are working hard on student's behalf to find, deliver, and distribute donated food items. So, we ask that respectful language and honorable/ethical behaviors be in practice, for the sake of everyone, throughout the shopping experience. 
CSRC Regulation: Pantry users must stop at the CSRC front desk to swipe.  CSRC's swipe does NOT count as your Pantry swipe, so you will need to swipe again in order to use the Pantry. 
If you are experiencing Very Low Food Security, we encourage you to use the UIC Food Pantry. It was created for you!
Steps to Becoming a Pantry User:
GCFD Regulation: All Pantry shoppers must register in order to receive resources from the UIC Pop-Up Pantry. Register during non-pantry hours by stopping at the Wellness Center front desk.
Fill out the short intake form (it takes only 3 to 5 minutes).
Show your UIC I-card at the time of registration.
Rules for Shopping the Pantry:
Each pantry user is allowed to shop up to twice for the whole month.

During the regular fall and spring semesters, we are open every Wednesday and Thursday from 1:00 pm – 4:00 pm.
During the summer and holiday breaks, Pantry hours are subject to change.

You will sign in (electronically) and swipe your I-card for every visit.
The Pantry is located in CSRC's Quiet Area, so please be mindful of other students.
Bring sturdy, reusable bags at each visit to the Pantry.
You will receive a shopping number, and when your number is called, you will receive a basket, and enter the Pantry.
Be courteous to other shoppers, students, and staff.
Items, limits, and points are labeled in the Pantry.
Adhere to shopping item and point limits (Up to 8 points per visit & points do not roll over to the next visit).
Please collect all of the food items that you need prior to getting in line at the check-out table. Once you have checked out, additional food items cannot be added to the basket.  Please exit the Pantry so other students, waiting in line, will have an opportunity to shop.
Since the Pantry is based on donations, it runs on a first-come-first-serve basis. Items are limited and vary week by week.
** Please be mindful of other shoppers who are in need of food when shopping at the Pantry. **
**Products are split between both days to ensure fairness**
** We believe in sustainability, please bring your own shopping bag.
** We are proud to offer fresh items such as milk and eggs, but be mindful of your commute time.  Shop and plan accordingly so items do not spoil.  Especially during the hot summer months. 
** Individuals are served first come, first served.  Please be mindful that due to limited supplies and quantities of some items, they may be gone before you arrive to shop.  Please be patient as we expand our selection and quantities to accommodate everyone.
History
During the summer of 2014, Carol Petersen, the Director of the UIC Wellness Center and Brandon Gaskew the 2014-2015 Undergraduate Student Government (USG) Vice President, developed the Pop-Up Pantry to target the growing food insecurity on campus.  The initiative was successful from the beginning and aided a large number of students. Since the inception, the Wellness Center with the support of UIC faculty, staff, students, USG, Office of the Vice Chancellor for Student Affairs, Office of the Chancellor, and many other supporters have helped the Pantry to serve on average 3,000 bags of food to UIC students who are experiencing food insecurity. As of May 2017, the Wellness Center is proud to announce our partnership with the Greater Chicago Food Depository (GCFD).  This partnership will allow us access to fresh fruits, vegetables, and dairy to better serve the nutritional needs of our students.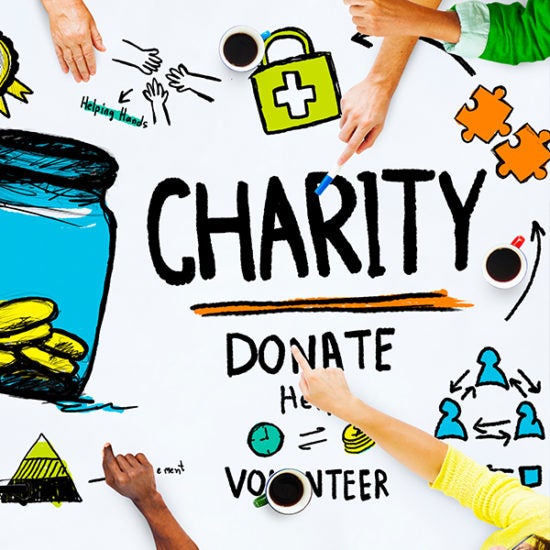 Donations
Without donations, the Pop-Up Pantry would not exist. Even with the support of fresh produce and dairy from the Greater Chicago Food Depository, donated canned and dry goods are still critical.  If you want to support the Pop-Up Pantry, we currently accept both food and monetary donations. No amount is too small. If you wish to make a monetary donation, please click below.
Make A Donation
Food Donations
Food donations
Food donations are accepted throughout the year and can be dropped off at a designated bin throughout numerous buildings on campus or directly to the Wellness Center. We accept food donations as well as donations of toiletries and period products. (E.g.: shampoo, conditioner, body wash, soap, deodorant, period products, kleenex, toilet paper, etc.)
Items must be in cans, cartons or bags
Must be non-perishable (requires no refrigeration or freezing) ** We, unfortunately, cannot accept fresh produce or similar items due to food safety regulations.
Unopened and in the original container with the original product label
Free of dents, rips, stains, moisture and other forms of damage
Must NOT be expired
Most needed items:
Peanut butter
Jelly
Rice
Cereal/Oatmeal
Breakfast/Snack Bars
Canned fish
Canned meat
Canned beans
Canned soup
Canned vegetables
On-the-go/instant meals
Pasta
Pasta sauce
The Pop-Up Pantry does NOT accept:
Candy/treats
Perishable items
Expired items
Want to Help?
Ways You Can Support the Pantry! 
Volunteer at the Greater Chicago Food Depository and ask if your "credit" can be directed to UIC's Wellness Center Pop-Up Pantry! (You can volunteer yourself or go with a group!) Link: https://www.chicagosfoodbank.org/volunteer/
If you are a part of an organization and are interested in hosting a food drive for the pantry, please send an email to wellnesscenter@uic.edu, and we will provide you with bins for your food drive.
Pantry Elves: To be efficient, the pantry utilizes UIC staff to support the pantry in its food collection efforts. Pantry elves, composed of UIC faculty and staff, provide a vital service and are located throughout the east and west campus and have bins located in their area or building.  If you are interested in becoming a pantry elf, please email,  wellnesscenter@uic.edu