7 Tips to Manage Time Effectively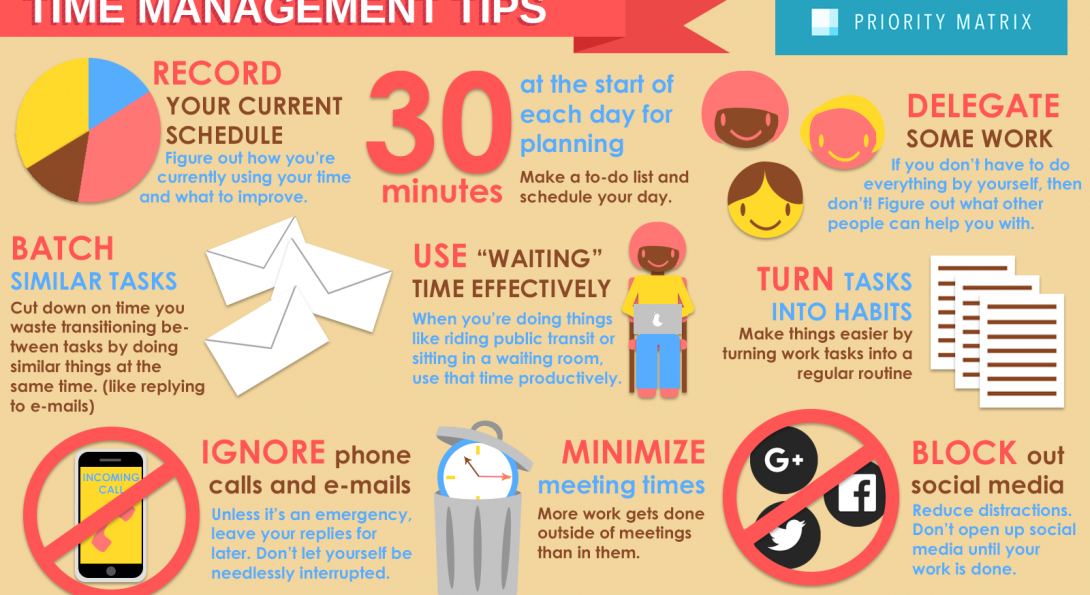 Many students often struggle with time management. That's normal! To help you manage your time better, please take a look below for 7 tips to manage your time effectively! Please note what's important is to create a plan and sticking to it to the best of your ability. However, we recognize things happen, so please know it's OKAY to readjust your plan! If you need extra help, please reach out to your friends at the Wellness Center!
Create a daily/weekly plan

Write down everything you want to accomplish for that day
Try to color code it and rank the daily tasks based on importance and urgency.
Give a time limit to each task.
Schedule time for self-care each day. Remember taking care of yourself is important!

Use a calendar (either paper or electronic/mobile)

You can split up your calendar into…

Private (birthdays, parties, family events)
Professional one ( meetings, work, school/classes, exam/project deadlines, etc.)

Tip: color coordinate whenever possible based on category or priority
Tip: Set up calendar reminders so you get a notification of upcoming events.
Tip: Review your syllabus and add all due dates to your calendar. Then task yourself to work on projects a week or two before they're due. This will give you enough time to schedule appointments with the Writing Center, Tutoring Centers and or attend office hours.

 In order to manage your time better:

Block out distractions such as social media, tv, phone, etc.,
Eliminate time wasters
Tip: If you find that you're very overwhelmed and need a little extra time to finish an assignment, reach out to your professors! Your professors care about you and want you to excel, so talk to your professors/ TA's.
Tip: Use apps like Pomodoro and Cold Turkey

Track your goals

Keep a tab on how far you get on your projects, hw, work, etc.,
Tip: create an excel sheet that tracks progress and or bullet journal

Learn how to say "No"

People will ask you to hang out, and if it doesn't work with your schedule, it is okay to say no.
Adding more to your plate when you are already feeling overwhelmed may lead to burnout, so practice saying no.

Avoid multitasking

Try to stay focused. Work on one project at a time
Batch similar tasks together but don't try to do ten different things at the same time

 Take breaks when needed

It is good for your mental health to take a step back and take a break
Do something you enjoy and relax!
Remember, YOU GOT THIS!
Resources: 
If you need further help, please feel free to schedule a one-time 45min. Wellness Coaching consultation with a Health Educator at the Wellness Center.
Feel free to also visit the Academic Center for Excellence (ACE). Ace provides learning support services to enable all UIC students to accomplish their academic goals by developing critical thinking skills and learning strategies that will enhance their academic success.
If you need extra help in class attend tutoring sessions. View link for a list of UIC tutoring centers: https://tutoring.uic.edu/ 
Modified on September 09, 2021